0
Kendrick Perkins verbally threw Joakim Noah out of Thunder locker room
12/20/2013 at 6:37 am By Anthony Ramsey
Tweet
Veteran Oklahoma City Thunder center Kendrick Perkins wanted no parts of Chicago Bulls' Joakim Noah in the Thunder locker room following their game Friday night, per a report from The Oklahoman's Anthony Slater.
Here is the conversation, according to Slater: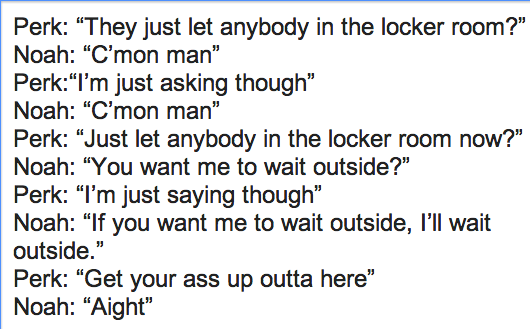 Noah was escorted into the locker room by Thunder player Thabo Sefolosha, who was a former teammate of Noah's on the Bulls a few seasons ago. Sefolosha had been visiting with Noah in the Bulls locker room with no issues. Apparently Perkins doesn't play that.
If anyone is at fault here it's Sefolosha, at least for not consulting with his teammates if it was cool to bring a player from a different team in their locker room. Lesson learned, no harm no foul.
-ALR
Powered by

Sidelines
Tags: chicago bulls, funny, joakim noah, kendrick perkins, Oklahoma City Thunder